Here is my very first Trick Track setup that made me land into the Fixed Gear trick scene. With its ability to barspin and short geometry, I quickly fell in love with it and made the commitment to ride it till it will break.
The build evolved much (the major evolution was mounting the pair of H+SON Hydra instead of the Gipiemme Pista) and saw many forks bend in its head tube till it breaks!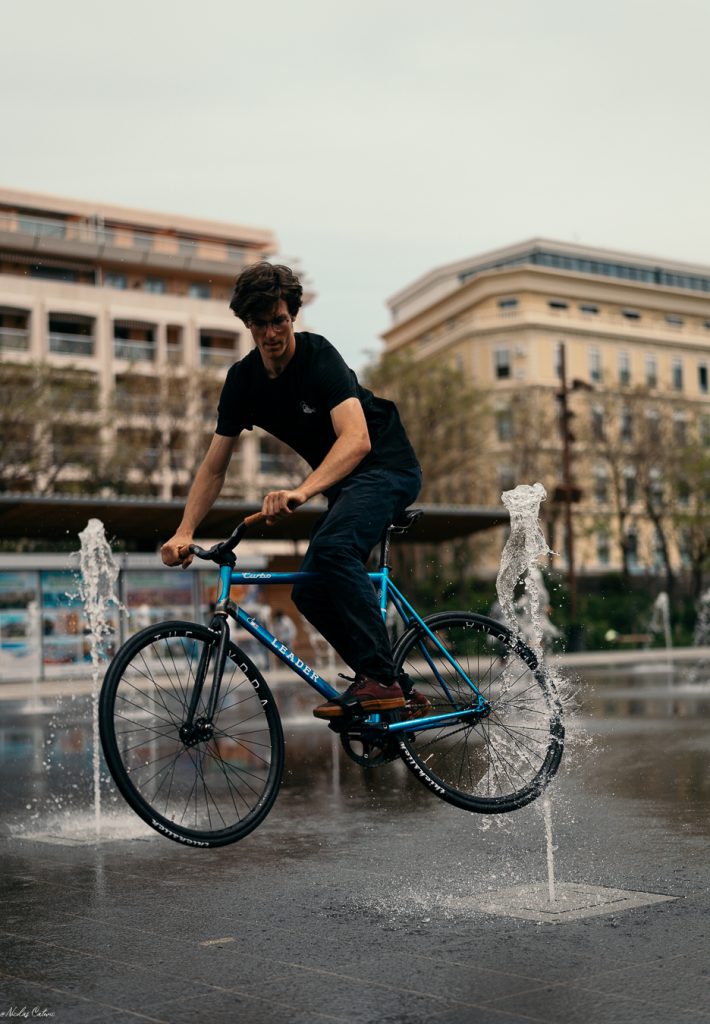 Miroir D'Eau – Place Massena
Nice, France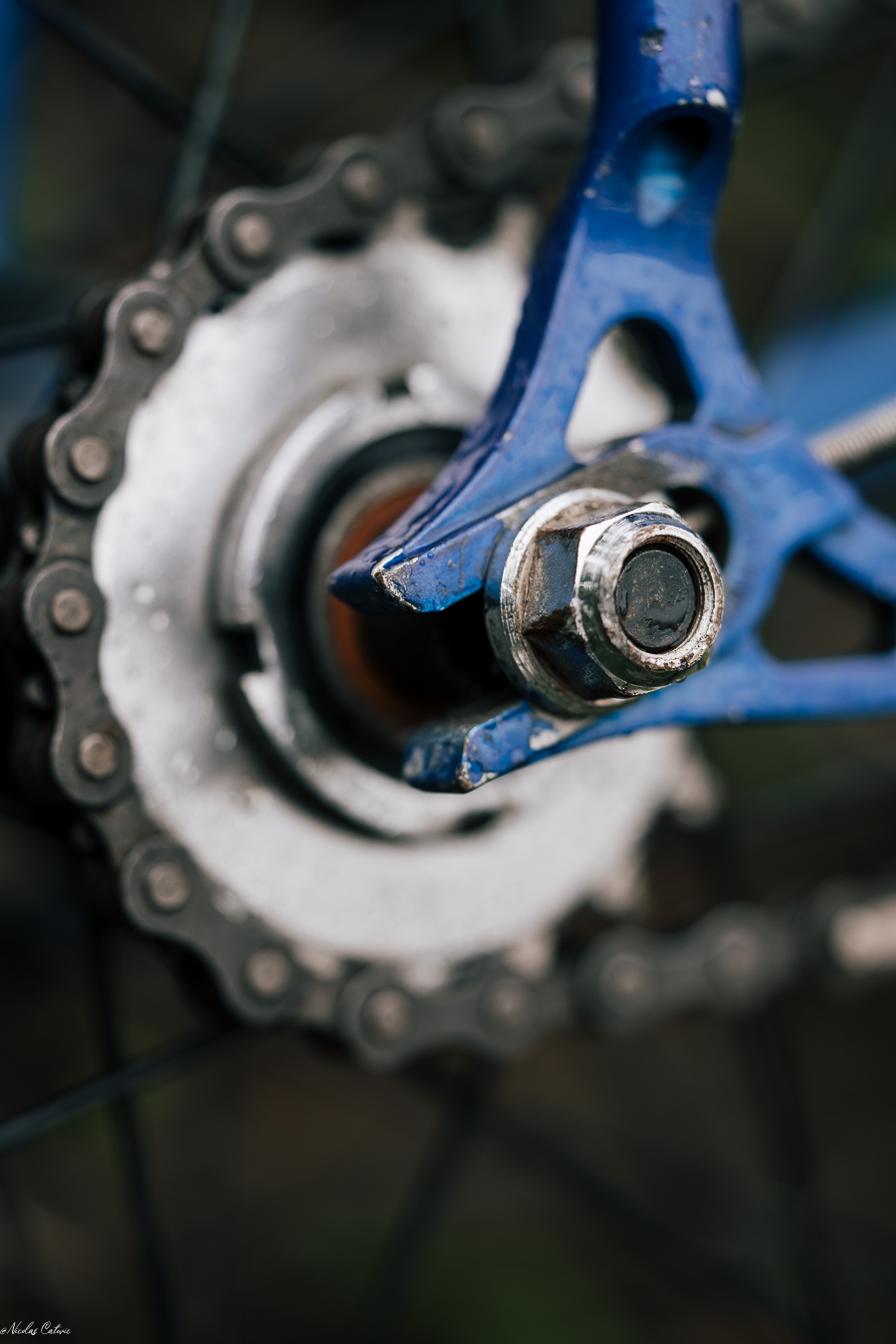 Components
The build is constantly evoluting as parts break and get replaced but here is the current component list
Frame: Leader 722 Heritage Edition Blue T58
Fork: Infiné Cycle (no name, from stock clearance) 1 1/8″
Headset: Tange Technoglide J-2
Wheelset: H+SON HYDRA 28″
Hubs: BLB Track 32H
Pedals: FYXATION Gates Black
Crankset: BLB Track 46T
Cog: Gusset 18T
Straps: Veganski FREESTYLE
Chain: KMC Black 1/8″
Stem: KONA DH Primo
Handlebar: KONA DH Primo
Grips: Vans x Cult Gum
Seat: Fizik Pavé
Seat Post: BBB 27.2mm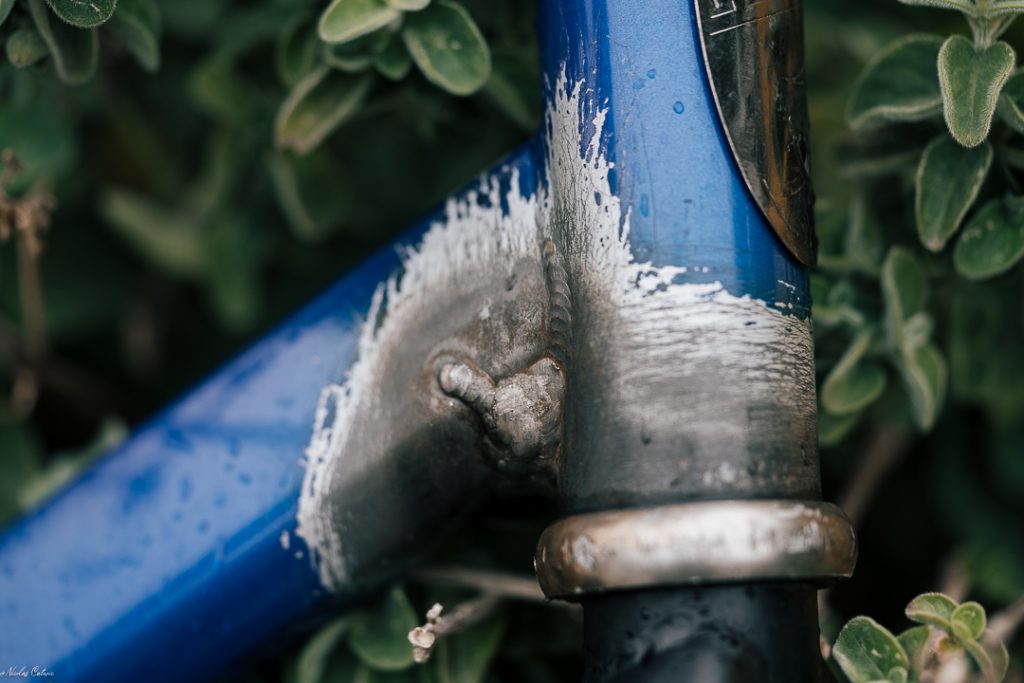 I bought the frame second hand and it was impressive to see how much tricks I made it endure. One day (in April 2021), I started hearing a strange high pitched metal noise coming from the front of the bike. I thought at the beginning that it was a noise from the front wheel bearings or from the fork bearings. But it was really strange. I finally gave a look to the frame and saw a crackle surrounding the down tube, just next to the head tube.
I was sad but I knew something was possible as it was steel. A friend brought me to a friend of his that welds big structures. He TIGged that shit up, and I was able to ride again, even with a stronger welding (he reinforced the junction between the head and down tube).
What a good day that was! Lucky to have this kind of kind friends!
For your information, at the moment I'm writing this the welding is still perfectly fine 4 months later!
Follow @el_fakijoe for more content 🙂